Stone refacing has become a popular way to enhance
the exterior beauty of your home using stone products.
Stone refacing has become a popular way to enhance the exterior beauty of your home using real stone products. Real stone refacing allows us to change the look of your home through custom stone renovations eliminating the need to move away from your existing neighbourhood while achieving an updated look for your home or business.
Three Little Pigs Masonry installs a full 4 inches of real stone veneer to the exterior walls of your home. Why do we choose to install full 4 inches of stone? The GTA has experienced extreme weather conditions such as heavy rains, ice storms, and extreme cold. How could we offer any less to our customers? Our choice will withstand the weather conditions of the GTA, other options will not.
---
The existing brick veneer is dismantled, along with usually existing damaged vapour barrier. A new vapour barrier is installed and the building envelope sealed. The new stone is expertly installed with quality control. We can work with all your custom requests. New stone window sills, parging, flagstone and address stones are just a few of the custom features we provide. Three Little Pigs Masonry installs many types of natural stone, sandstone and limestone. Our team will be happy to assist you with your stone refacing ideas.
The homeowner can choose one, two or all elevations, or just feature one area. We choose to provide real stone options for our customers as we know that our real stone installation will provide a maintenance free result we all come to expect of masonry. There are other options available in the market but our experience has proven that in this climate, our real stone installation is the best option.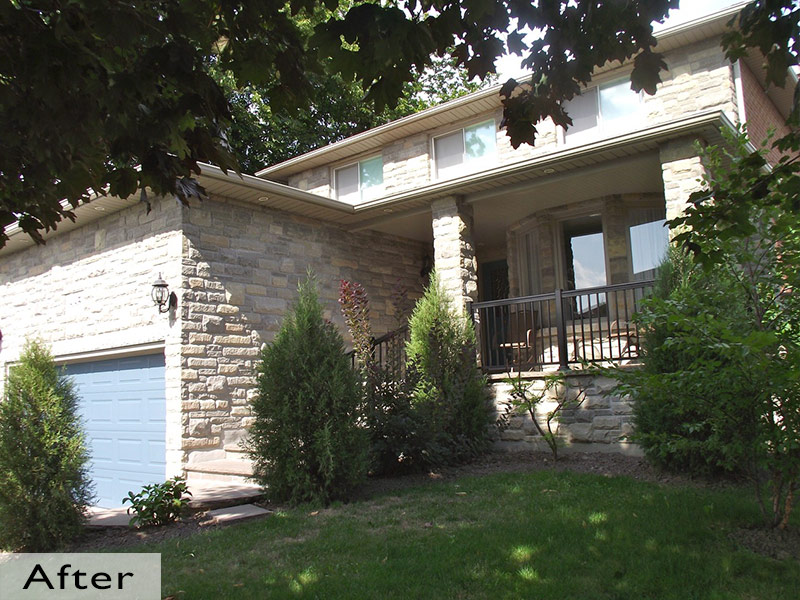 ---
Stone Refacing for Window Areas
Partial Stone refacing is a great option for those areas on the home that are wood, stucco or siding. We remove the existing material and seal the area. REAL stone or stone slices can be safely installed to give the home real stone accents and a maintenance free option. Included are stone windows sills with proper drip edges and a 20 year warranty on workmanship and masonry materials.Includes life time warranty on stone!
---