Concrete cracks are a common problem throughout the GTA. The majority of these cracks are caused by the failure to ensure proper reinforcement at time of installation and by not having pilings installed 4' deep to ensure frost never effects or moves the concrete.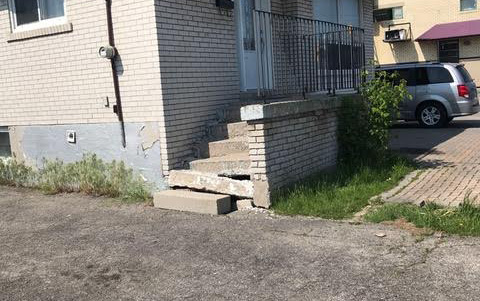 Concrete Step Repair
Concrete steps are the most common way we access our entrances. The concrete steps usually, but not always, include a landing, treads and risers. In addition, many include a room or cold cellar underneath. If the concrete steps are not installed properly. Whether they are plain concrete or covered in a flagstone or veneer, Three Little Pigs Masonry in the GTA can solve any issues you may be experiencing.
Concrete Walkways
Concrete has always been a wise choice for walkways and sidewalks. It is long-lasting, easy to care for and has a nice clean appearance. Given our climate, proper installation is essential. Three Little Pigs Masonry follows the National Building Code (NBC) guidelines for concrete installation. This includes 4-foot pilings (below frost line) installed at 5-foot intervals and reinforced with steel rebar and concrete. This procedure is very important in keeping the concrete in place over time when the earth is subject to constant movement. Six to eight inches thick concrete is placed to create the concrete walkway or sidewalk. The concrete is also reinforced with overlapping steel mesh.

Our team works closely with the customer to achieve the correct design and finish. Three Little Pigs Masonry provides a 20-year warranty on your new NBC concrete walkway or sidewalk. The walkway or sidewalk is ideal for customers who would like to have flagstone installed as the finished product. It will ensure that no cracking or shifting will affect the flagstone, providing many years of enjoyment and pride. Three Little Pigs Masonry also offers concrete walkways and sidewalks installed by the Ontario Building Code.
Structurally Sound Foundations for Lasting Results
Our method of preparing the foundation for any stone application and or new concrete pad or sidewalk is in accordance with the more stringent National Building Code standards. We actually drill 4 foot deep holes (below grade) that are 8 inches to 12 inches in diameter and at 5 foot intervals. We install 15M steel rebar into the pilings and tie 15M rebar to a minimum 4" to maximum 6-8" depending on voids to fill 6 inch concrete slab. While preparing the concrete slab, wire reinforcement is also installed and tied to the 15M steel rebar for vertical reinforcement. The wire reinforcement is placed overlapping within the concrete to provide the horizontal reinforcement.

We pour or place the concrete and the new concrete is ready for use. Projects that include flagstone installation require s concrete curing period. We pour or place the concrete and wait a minimum of 28 days for the concrete to fully cure. Concrete must be left to cure to avoid possible cracking if stone is installed immediately. After the curing period, we return and install your natural stone or flagstone. If these steps are not followed accurately, the chance for your flagstone to crack is a very definite possibility.